Water Softener Installation
Do-It-Yourself (DIY) Water Softener Installation
Although you may need a new water softener, the thought of installing your system may be intimidating. Fortunately, the water softeners we sell can be installed by anyone who is familiar with the basic principles of plumbing. But if you'd rather leave it up to the pros, contact a local plumber for assistance.
How to install a Whirlpool Water Softener video
Typical Water Softener Installation Requirements
Water softener installations vary in difficulty depending on whether you're installing a new softener or replacing an old one. Replacing an old water softener can be done in under an hour. A new installation may require some additional plumbing knowledge, but it can still be tackled in a few hours.
You may need to cut some piping to align your new water softener to your water supply lines, so be sure to preview our list below of what you'll need to ensure you're properly prepared for installation.
What You'll Need
The water softeners we sell come with everything needed to install and connect it to a 1" NPT (National Pipe Thread). If your plumbing is smaller or larger than 1", please review the list below to make sure you get the right tools and materials for your installation.
Two 1" NPT female connectors and enough tubing to connect the water softener to your existing plumbing. If you have copper, PVC, CPVC, steel or PEX plumbing they may require different materials and different tools for installation.

12 feet of drain tubing is supplied. In the event that your drain is further than 5 feet away, you will need to purchase more half-inch tubing to reach your drain. A drain should not be more than 30 feet away from a softener. Also, a drain line should not be elevated more than 8 feet above the floor.

The power cord needs to be plugged into a 110V continuous live outlet. Each unit comes with a 10-foot power cord.
Typical Basement Installation
For proper basement softener placement and installation review our diagram.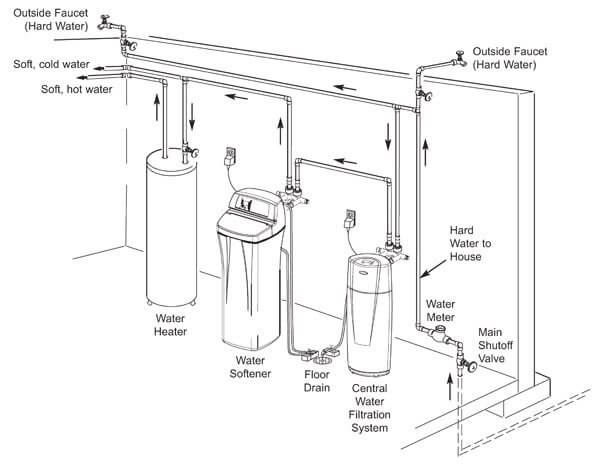 Typical Slab Foundation Installation
For accurate slab foundation installation review our diagram.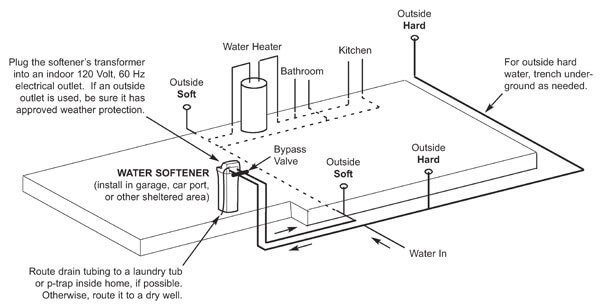 Quick DIY Water Softener installation Checklist
Creating a checklist before you begin will ensure you don't miss any important steps. See your product installation manual for additional details.
Turn off your water supply at the main line
Drain the water lines
Make proper connections (optional: install remote bypass)
Fill your brine tank half-full with salt
Ensure bypass is shut, slowly turn on water while checking for leaks
Complete the start-up procedure